A previously unknown manuscript piano score for Blitzstein's early ballet Cain surfaced this summer. The owner donated the score to the Kurt Weill Foundation for Music in October 2016. The 115-page manuscript in red and black ink post-dates the full score, currently held in the Blitzstein papers at the Wisconsin Center for Film and Theater Research, whose holdings also contain another holograph piano vocal score.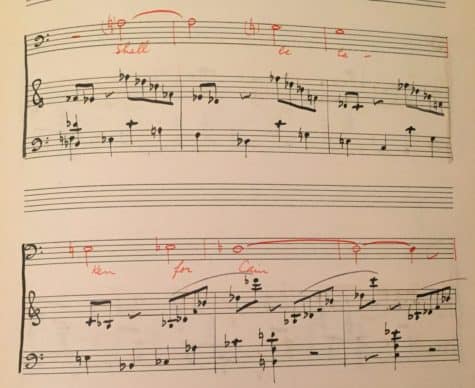 Composed in 1930 for a competition sponsored by the League of Composers, Cain retells the biblical story of Cain and Abel and the first murder. Heavy in allegorical implication, Blitzstein wrote in his preface to the synopsis, "Cain is a tragic ballet. Its philosophy is that we are all killers, and that murder is our heritage." The work is structured in twelve sections divided into two parts separated by an interlude and runs approximately 30 minutes in duration. The ballet requires twelve solo dancers, a company, and one singer – a baritone representing the voice of Jehovah, heard only through an amplifier from off-stage (the vocal part is notated in red in Blitzstein's piano score; see accompanying image). As usual with Blitzstein, the scoring is lavish: sixteen winds, fourteen brass, two percussion players, piano, and strings. Blitzstein began a version for smaller orchestra; that unfinished score is also held in Wisconsin. Both piano manuscripts bear Blitzstein's notes on a concert suite derived from the work, but the movements and ordering differ slightly.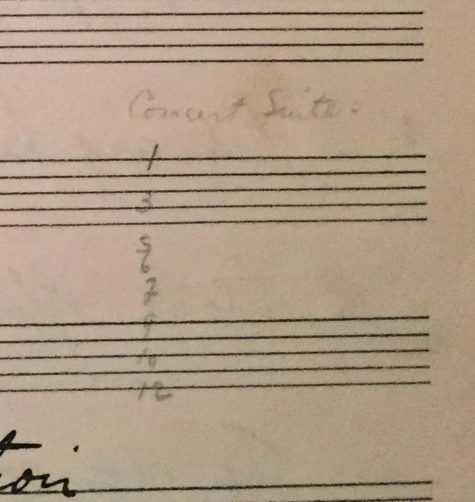 Blitzstein dedicated the work to his future wife, Eva Goldbeck, and in a letter to his sister, Jo, wrote of his progress on the piece, "It will be a wow; or at any rate the work and love going into it deserve a wow." Upon completion, he wrote again to Jo, describing it as "the best thing I have written in my career." Despite such high expectation by the composer and the admiration of several of his colleagues, including Copland, Nadia Boulanger, and interest from Stokowski, the work never received a complete public performance in Blitzstein's lifetime.
Little is known of the score's provenance. The donor acquired it in the 1950s from an unknown estate as part of a larger lot of published and manuscript music. The score then lay forgotten among the donor's belongings until he rediscovered it this summer and contacted the Kurt Weill Foundation. The find presents a potentially interesting discovery in tracking this early composition which the promising young composer invested with such high hopes. The question as to why Blitzstein created two different piano vocal scores for the same, unpublished, unperformed work demands musicological inquiry; comparison of the two scores may yield new insights on Blitzstein's technique and creative process. Inquiries are encouraged; the score currently resides at the Weill-Lenya Research Center at the Foundation offices in New York City (wlrc@kwf.org).